Sony 3.27 Megapixel 20x Zoom HD Color Block Camera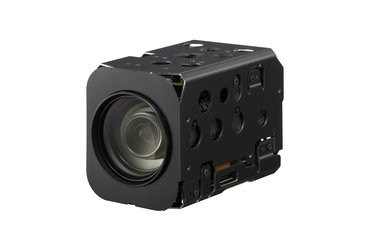 Product descriptions
Specification
Feature
Drawing
Accessory
Download
Products Series
Sony FCB-EH6300(FCBEH6300)Full 1920 x 1080/30p High Definition
Full 1920 x 1080/30p High Definition: Ideally suited for Military and Security monitoring applications, the FCB-EH6300 HD block camera offers full 1920 x 1080/30p high definition video output.

Digital Output (Y/Cb/Cr 4:2:2): The digital LVDS interface provides easy access for IP and Gigabit Ethernet applications. Thanks to the digital interface, the quality of the camera's video signal is maintained with minimal deterioration. This can lead to cost savings due to the direct connection with codecs/systems without the need for any additional components.

Temperature Readout: The value of the internal temperature of the FCB-EH6300 camera can be read out via the VISCA™ protocol. When checking the internal temperature of equipment (i.e., speed dome unit), it is possible to use this data to turn a fan or heater on/off inside the equipment as needed.

Color Enhancement: Ideally suited for low vision applications, new color enhancement options can make reading text and pictures less challenging. Available options include monochrome, binary, inverted and enhanced color modes.



Key Features

Digital Noise Reduction

Spherical Zone Masking

Motion Detection Alarm

Slow AE response: Max. 2 minutes

Camera mode display feature

Picture Effects: E-Flip, Nega Art, Black & White, Mirror Image, Color Enhancement

200X zoom ratio (20x zoom/10x digital)

Electronic shutter/slow shutter

TTL signal-level control (VISCA™ protocol)

Specification

Image sensor

1/2.8-type Exmor CMOS

Effective number of pixels

Approx. 3.27 Megapixels

Image size (H x V)

1920 x 1080, 1280 x 720, 720 x 480, 720 x 576

Lens

20x optical zoom,
f=4.7 mm (wide) to 94.0 mm (tele) ,
F1.6 to F3.5

Digital zoom

12x (240x with optical zoom)

Angle of view (H)

1080p mode - 55.4°(wide end) to 2.9°(tele end)
720p mode - 37.6°(wide end) to 2.0°(tele end)

SMinimum object distance

10 mm (wide end) to 1,000 mm (tele end)
(Default: 300 mm)

Sync system

Internal

Minimum illumination

High sensitivity mode - 0.5 lx (F1.6, ICR off) 0.095 lx (F1.6, ICR on)
Normal mode - 1.7 lx (F1.6, ICR off) 0.3 lx (F1.6, ICR on)

Recommended illumination

100 lx to 100,000 lx

S/N ratio

More than 50 dB

Signal system

HD
1080p/29.97, 1080p/25,
1080i/59.94 (Frame out: 29.97 PsF), 1080i/50
(Fram out: 25 PsF)
720p/59.94, 720p/50, 720p/29.97, 720p/25
SD
NTSC, PAL

Video output

HD
Analog: Component (Y/Pb/Pr)
Digital: Y/Cb/Cr 4:2:2 via LVDS
(Signal format conforms to SMPTE274/SMPTE296.)
SD
VBS

Camera control interface

VISCA (CMOS 5 V level)
Baud rate: 9.6 Kbps, 19.2 Kbps, 38.4 Kbps
Stop bit: 1 bit

Electronic shutter

1/1 to 1/10,000 s, total 22 steps

White balance

Auto, ATW, Indoor, Outdoor, Outdoor Auto, Sodium Vapor Lamp (Fix/Auto),
One-push, Manual

Gain

Auto/Manual (-3 dB to +28 dB, +2 dB step/total 16 steps)
Max. Gain Limit (+6 dB to +28 dB, +2 dB step/total 12 stpes)

AE control

Auto, Manual, Priority mode (shutter priority & iris priority), Bright, EV
Compensation, Slow AE

Focusing system

Auto (Sensitivity: normal, low), One-push AF, Manual, Infinity, Interval AF,
Zoom Trigger AF, Focus Compensation in ICR On

EV compensation

No

Backlight compensation

Yes

Aperture control

16 steps

Preset

6 positions

Wide-D

Yes (On/Off/Auto) **

Image Stabilization

No

StableZoom

No

Digital output

Yes

Auto ICR

Yes

Spherical privacy zone masking

Yes

Noise reduction

Yes (On/Off) (Level 5 to 1/Off total 6 steps)

Motion detection

Yes

Alarm

Yes

Slow AE

Yes (Approx. 5 minutes)

Picture effects

Yes (E-Flip, Nega Art, Black & White, Mirror Image, Color enhancement)

Picture freeze

Yes

Slow shutter

Yes

Temperature readout

Yes

Title display

Yes (20 characters/line, max. 11 lines)

Camera mode display

Yes

Key switch control

No

Camera operation switch

No

Storage temperature

-4˚F to +140˚F (-20°C to +60°C)

Storage humidity

20% to 95%

Operating temperature

23˚F to +140˚F (-5°C to +60°C)

Operating humidity

20% to 80%

Power requirements

6.0 V to 12.0 V DC

Power consumption

3.2 W (zoom/focus inactive) / 3.8 W (zoom/focus active)

Weight

9.2 oz (260 g)

Dimensions (w x h x d)

2 x 2 3/8 x 3 5/8 inches (50.0 x 60.0 x 89.7 mm)

*

Features and specifications subject to change without notice.