HDMI Extender 60M,3D Full HD 1080P,HDMI to RJ45 Extender Over CAT5E/6x1 With IR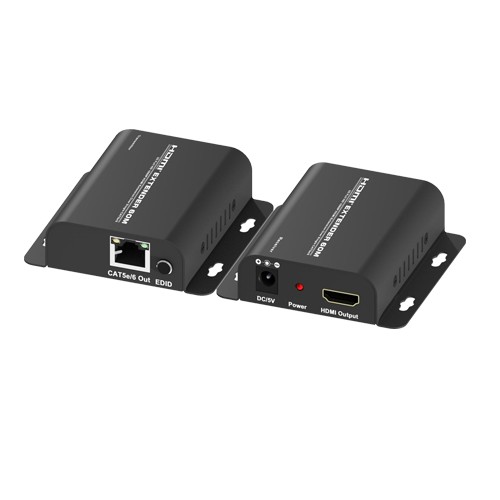 Product descriptions
Specification
Feature
Drawing
Accessory
Download
Products Series
HDMI Extender 60M,3D Full HD 1080P,HDMI to RJ45 Extender Over CAT5E/6x1 With IR
Introduction
The HDMI to RJ45 Extender use single CAT5E/6 (recommended)cables up to 60 meters instead of HDMI
cable to transmit high definition signal,for cutting down cost.Long distance transmission of high definition
is very difficult because HDMI cable is very expensive and infrequent. The Extender is designed to supply
for long distance transmission of high definition signal.

Features
1. HDCP 1.2 protocol compliant
2. Support video input : 24/50/60fs/1080p/1080i/720p/576p/576i/480p/480i
3. Signal transmission :cat5e or cat-6(recommended) cables up to 60
meters instead of HDMI cables are connected between TX and RX Extender.
4. Support video output : 24/50/60fs/1080p/1080i/720p/576p/576i/480p/480i
5. Support CEC
6. Audio format support : DTS-HD/Dolby-trueHD/LPCM7.1/DTS/Dolby-AC3/DSD
7. No loss of quality
8. Installs in minutes
9. Need DC5V/1A power supply

Specification
Length of CAT-6 cable between Transmitter and Receiver: Up to 60 meters
HDMI Input: 24/50/60fs/1080p/1080i/720p/576p/576i/480p/480i
Support audio format input: DTS-HD/Dolby-trueHD/LPCM7.1/DTS/Dolby-AC3/DSD
HDMI Output: 24/50/60fs/1080p/1080i/720p/576p/576i/480p/480i
Support audio format output: LPCM7.1/DTS/Dolby-AC3/DSD
Max bandwidth: 165MHz
Max baud rate: 4.95Gbps
Input Video signal : 0.5~1.5Volts p-p
Output DDC signal: 5Volts p-p (TT1L)
Input/Output HDMI cable distance: ≤20m AWG26 HDMI standard cable
Max working current: 800mA
Power adapter format: Input:AC (50HZ, 60HZ) 100V-240V; Output: DC5V/1A
Operating Temperature range: (-15 to +55℃)
Operating Humidity range: 5 to 90%RH (No Condensation)
Panel ( HDMI Extender With IR )RX-505A


Panel ( HDMI Extender with HDMI Output )RX-505B

Application ( HDMI Extender With IR )RX-505A

Application
( HDMI Extender with HDMI Output )RX-505B


Package Content

1.Power supply-----------------------2 Pcs
2.User manual------------------------1 Pcs
3.HDMI Transmitter------------------1 Pcs
4.HDMI Receiver---------------------1 Pcs